What is Cored Wire?

The cored wire is a long wire shaped additive for molten metal, which is made of U shape with thin steel plate and filled various metal granule in that and closed tightly, so called overlapping craft, with help of equipment. It is used as various molten metal treatment agents widely.
The cored wire is used for the steelmaking and casting, and components added by a usuage are different. Among them, Ca-based additive is used mainly for the purpose of deoxidation, desulphurization and transformation of non-metallic inclusion in steelmaking process.
Required characteristics
of cored wire

As the additive is charged densely, even with small quantity, recovery rate of molten steel is high
Provided with suitable rigidity and flexibility, and therefore, the winding operation is facilitate.
Surrounded by thin steel plate, so the solubility and adjustment of composition is simple.
As the additive is wire shaped, injection is simple and processing time is shorter.
Required characteristics
of cored wire
Ca-Si
Ca
Al-Ca-Fe
Mg-Fesi
C
Diameter(φ,mm)
13±0.5
13±0.5
13±0.5
13±0.5
13±0.5
Width(mm)
900, 1200
900
900
500
900,1200
Inside Diameter(mm)
650
650
650
650
650
Outside Diameter(mm)
1200
1200
1200
1200
1200
Filling Rate(g/m)
220±10
230
240±10
70-120
130±5
Chemical
composition
(%)
Ca
27-34
98<
28-35
Si
58-65
10
Al
Max1.5
38~42
Mg
-
30-80
C
Max1.0
98<
P
Max0.05
S
Max0.05
1.0<
Fe
29~30
Properties

INTEC CO.,LTD. can produce various kinds of products, and due to the high filling rate of additive for each product, even a small quantity is enable to enhance the work efficiency.
Injection method of wire

In ladle addition of lump state of Ca based additive, the recovery is very low in 10% or less. Due to lower density of additive, lump is floated at the surface of molten metal and is losted in oxidation and slag.
Whereas cored wire injection can be reach the bottom area of molten metal by use of easy and exclusive supply device(wire feeder), therefore it can add an additioning component stably, in particular high recovery.
In addition, flexibility such as a change of the quantity of processing molten metal, the automation of facilities, control width expansion of the target quality is big.
Horizontal Type
Wire Coil Packing Shape
Coil weight
(kg)
Pallet dimension
(width x depth, mm)
Coil dimension
Outside dia. (mm)
Width (mm)
1000
1500
1200 x 1000
1200 x 1000
1100
1100
1000
1200
Vertical Type
와이어코일 포장_수평형
Coil weight
(kg)
Pallet dimension
(width x depth, mm)
Coil dimension
Outside dia. (mm)
Width (mm)
1000
1500
1200 x 1200
1200 x 1200
1100
1100
800
1000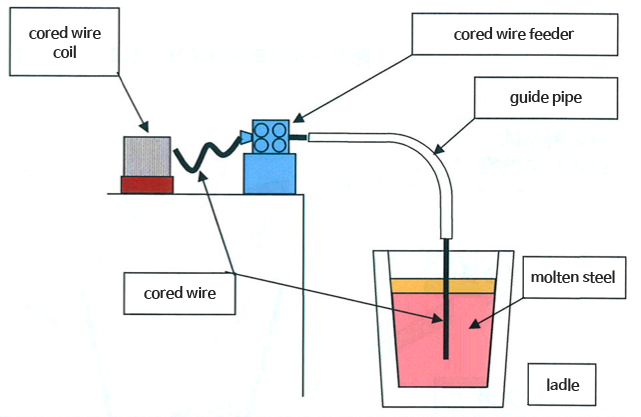 Photos of Cored wire