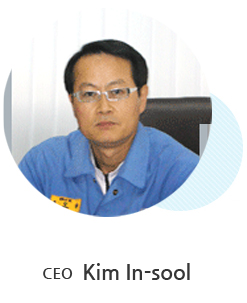 Hello,
I wish your health and happiness
customers visiting INTEC Co., Ltd.
Our firm is a professional company of subsidiary materials for steel industry and was founded in 2000, the first year of new millenium. We are growing as a company full of youth and animation-aimed for the best technology in the world. From early days of foundation, we developed colorstone based on our own ceramic coating technology and marketed ladle filler based on special carbon coating, the ceramic welding repair materials for life extension of coke oven, and flux to improve quality of molten steel during steel making works. And we supply products to domestic and overseas steel manufacturer including POSCO at a proper time with stable quality.

All our employees work under the philosophy of creating arts rather than producing products as found in the motto of our company "Trust first, Returns later", and they begin the day with the powerful slogan, "Best-health!, Best-quality, Best-safety!". Also in future, all employees of the company promise to do best to develop a new technology and improve quality more aggressively and actively to meet customer's expectations. Once more, we wish full of happiness in the family of customers visiting our company.
Thank you.